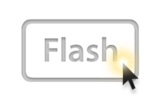 Flashファイルの読み込みを制御するプラグイン"ClickToFlash"の1.5fc2がリリースされています。対応OSは MacOS X 10.5(Leoprad) 以降となっています。
fc1及びfc2の変更点は以下の通りです。
rentzsch's clicktoflash at master - GitHub
1.5fc2

[FIX] Abandon 1.5fc1's Yet Another Installer Rework -- it causes Installer deadlocks that we can't figure out. bug 214 (rentzsch)

1.5fc1

[NEW] Use HTML5<video>>element instead of QuickTime plugin to view H.264 YouTube content on Safari 4. <video> plays better with HTML in general, respecting things like CSS's z-index. (Andreas Fuchs)
[NEW] Add white border to Flash badge, improving contrast against dark backgrounds. bug 131 (Simone Manganelli, rentzsch)
[NEW] Only 60% top-bias badge for flickr.com. (rentzsch)
[NEW] Add Realmac Software applications to application whitelist. (Nik Fletcher)
[FIX] Yet Another Installer Rework. Move to mpkg so we require a password for installation only when necessary (on 10.4 when a non-admin user attempts to install ClickToFlash after an admin user already installed it). bug 214 (Simone Manganelli, Mo McRoberts)
[FIX] Open in QuickTime Player now works on Snowy. bug 216 (Simone Manganelli)
[FIX] Unchecking 'automatically check for updates' only stopped the check on startup, not subsequent ones.
関連エントリー
Tags :